Previous Award winners
1999 - Patisserie Viennoise
2010 - Kirkgate Arcade
2011 - The Rumblin' Tum Café
2012 - Lentoid
2013 - Wydale Framing

The Good Service Award shield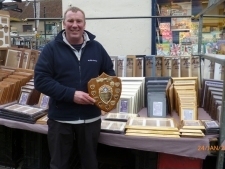 The public is invited to nominate any Otley business from where they have experienced exceptional service, together with any story or anecdote that underlines their case. A mystery shopper will then call on the three most nominated businesses and the most outstanding trader will receive the trophy.
First awarded in 1993 to the then Toyland shop, Otley Chamber of Trade decided to reinstate its Good Service Award shield in 2011 after an 12 year break. The award was conceived in recognition of the fact that most of the shops and businesses in Otley are privately run, and the recipient of the 2014 award was the Wydale Framing stall on Otley Market.
Competition organizer Trevor Backhouse writes, "Once again the customer will be King in Otley when the public are asked to vote for the shop or business that offers the best service in town. The public will be invited to vote for the business that they feel has gone the extra mile by offering exceptional service with a smile. In previous years we have had just one mystery shopper going around the town testing the nominated businesses, this year we will be having a whole host of mystery shoppers, so be on your guard and show how good the service is that you offer."
Please note that nominations are now closed for this year's award, and the winner will be announced shortly.