Otley Shop Heroes: Courtyard Planters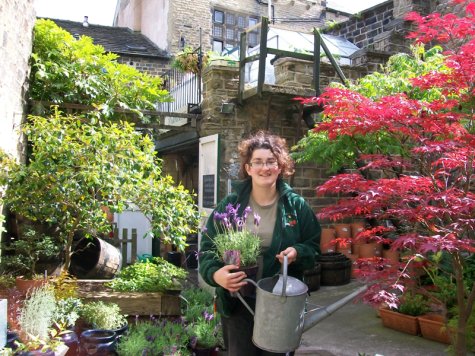 9 Westgate
Otley
West Yorkshire
LS21 3AT
Tel: 01943 462390
An oasis of calm amongst the bustling activity and traffic of Westgate, a step through the archway between Pinecraft and the computer games shop is like falling down the rabbit hole from Alice in Wonderland, emerging into a sunlit jumble of pots, planters, shrubs and flowers, the tranquility only augmented by the burble of water and Radio 4.
The courtyard once served as the stables of the former Half Moon coaching inn from where a Mr Petty ran a Friday service clattering between Otley and Storiths, near Skipton, at the turn of the last century. When the Half Moon closed in 1971 after 220 years the current owners moved in and established Courtyard Planters in 2005.
Katie Burnett and her green fingered staff love their subject, running garden school courses on subjects such as hanging baskets, vegetables and gardening for beginners and organizing the Otley In Bloom task force that keeps the towns floral displays looking neat and tidy.
More magical secret garden than commercial garden centre, the arrival back on Westgate can seem a rude awakening but it will still be there for next time.