Otley Shop Heroes: Chevin Cycles Ltd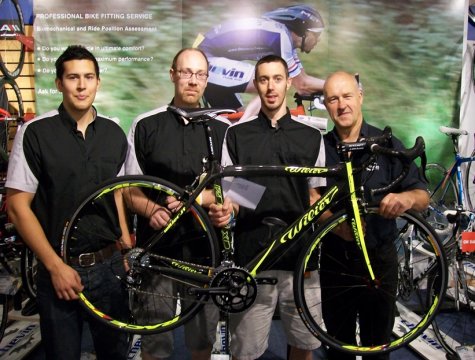 The Showrooms
Leeds Road
Otley
West Yorkshire
LS21 1BR
Tel: 01943 462773
Although owner Rick Peacock comes from the wrong side of the Pennines, in 1981 he saw the light and arrived in Otley to open Chevin Cycles in the shop now called Chevin Trek. In 1991 he moved to the current site, the former Stollcross Garages Opel car showroom. Subsequently he has kept expanding the store, including building offices and workshops at the rear (that's right, it's not a house!) For many years he had a lot of fun running the famous Otley Folk Club at a succession of pubs around the town and he still occasionally plays in his band Last Orders - but don't worry he's banned from striking up in the shop!
Being sponsors of the massive, nationally regarded Otley Road Race, Chevin staff are proud to enter in Team Chevin colours most years - it's a tough challenge and only for the very brave! Ian is the scooter and BMX guru that local youths turn to for training tips and advice. Jon, as well as being a former National Single-speed Champion, is very much in demand as one of the best Bike-fit technicians in the country.
There are 13 staff at Chevin and all the front of house team are keen cyclists who love sharing their enthusiasm with customers. They are delighted to help anybody and everybody solve their cycling dilemmas, whether it's the local stars of Emmerdale, road racers or total beginners. Cycling is fun and they want everybody to enjoy it whatever their level of ability. (No surprise they are also all great fans of children's inventor Wilf Lunn!).