Otley Shop Heroes: Bondgate Bakery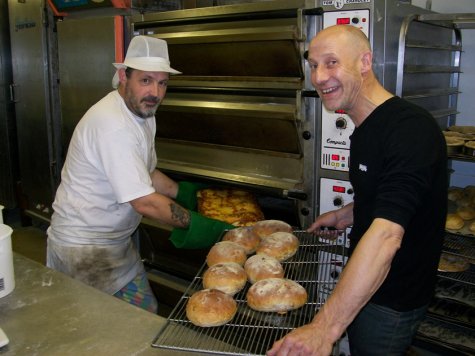 30 Bondgate
Otley
West Yorkshire
LS21 1AD
Tel: 01943 467516
Founded in 1984 by baker in chief and owner, Stephen Taylor and his partner Sally Hinchliffe in a building once known as the Cock and Bottle pub, Bondgate Bakery was originally kitted out with second-hand equipment bought from less discerning bakers as they closed down. Since expanded into the two shops next door the business championed by Jamie Oliver's magazine in 2009 has thrived to employ 15 people.
There are no cream buns on display but instead trays of wholesome, oaty slices studded with hazelnut nibs, plump dried fruit and glistening with honey. Trays of sticky pear and ginger sponge and chocolate nut brownies sit beside pizza, pasties and quiche, all of which look delicious but it is the racks of bread behind the counter that catch the eye.
Passionate about bread and rising, like his dough, at 3am daily, Steve and his team of skilled bakers get to work producing about 30 different types of bread from scratch. "There are no shortcuts here" says Steve. "Each loaf is made by a skilled baker using traditional ingredients and original methods." From dark rye to stoneground wholemeals, fruity muesli bread to mixed seed cobs, cheesy oat bread, crusty white loaves and teacakes, spelt sourdoughs and a totally gluten-free loaf, Steve is determined to bake without additives, pre-mixes or preservatives, hydrogenated fats, improvers or artificial colours, "We use only high quality ingredients, free range eggs, local honey, unrefined sugar and lots of fresh and dried fruit. Many of the flours we use are organic, and grown and milled locally."
Grateful for the support of like minded customers from Otley and surrounds, Bondgate also supply Harvey Nichols and various posh cafes, retailers and swanky bistros and have a stall at Headingley Deli Market. A high point of the past 27 years has been winning Best Independent Retailer in the Food and Farming Awards, run by BBC Radio Four's the Food Programme.