Otley Shop Heroes: Patisserie Viennoise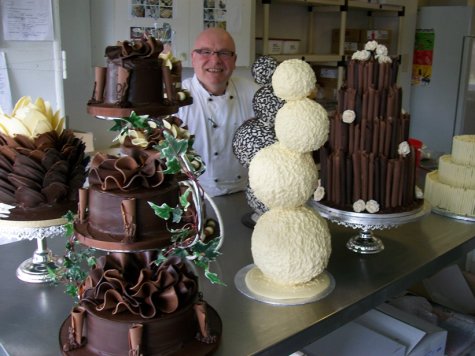 34 Westgate
Otley
West Yorkshire
LS21 3AS
Tel: 01943 467927
'Chocolate Trevor' Backhouse has enjoyed baking since he was a child. His first job at the tender age of 15 was in a local village bakery when he passed his City and Guilds at Thomas Danby College, Leeds. Trev then spent 4 years working in France exploring a passion for chocolate creativity as well as continuing to develop his Patisserie skills.
On his return to England in 1986 Trev established his 'Theatre of Confections' by opening Patisserie Viennoise in Westgate, bringing the continental touch to a Yorkshire public then more used to Mars bars and Wagon Wheels.
Tai Chi grandmaster Trev and his small but highly skilled team of creative confectioners have now been making 30 varieties of handmade chocolates for 25 years and his extravagant wedding cakes received a visit in June 2008 from the BBC's Hairy Bikers cookery programme.
Proudly having worn the chains of office for both the Chamber of Trade and Rotary Club Trev continues to champion the cause of Otley as a town; "Otley is a marvellous place to visit, shop and relax, it's almost a shame I live in Otley as I don't get the chance to visit!"